Association Mobile Apps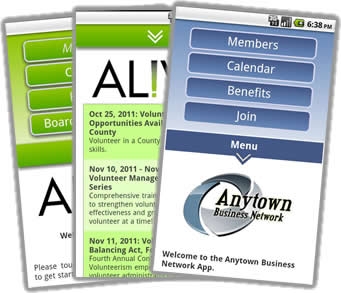 Vieth Consulting has a powerful and unique solution to providing Mobile Apps to associations. Powered by our Membership Management System, we can provide a mobile app branded to your association's logo and colors, and filled with the features you need such as:
Member Directory
Calendar
App Manager (to add/delete features)
Event Registration -
Reports
Membership Card
plus more features added each week...
Low setup costs have been achieved by using our proprietary app-builder technology, saving clients $1000's in development fees.

Ongoing maintainance and support of the app is included with your MMS service. The setup options for the app are:
Standard Setup - $250 - will be configured with your colors and logo
Enhanced Setup - $500 - we will custom design a 'skin' specifically for your organization, incorporating your logo and colors, but with a richer look.
The ongoing cost of the app would be the monthly fees for our Membership Management System which provides the engine that allows for updating the content and features of the app.

If you have a specific mobile app/feature that you are interested in, let us know. We are constantly expanding this feature.

If your requirements are more unique or specific, we provide custom mobile app development services.

Click on one of the links below to try out one of our demonstration apps...
---
Android
Anytown Business Network (fictional)
Requires Android 2.2 (Froyo) or higher.
---
iOS
Association of Leaders in Volunteer Engagement

(NOTE: The App Store doesn't allow for 'demo' apps. So, for demonstration purposes, the Association of Leaders in Volunteer Engagement have allowed us to use their MMS mobile app as our iPhone demo)
iOS 5 optimized (but supports iOS 3.0+).
---
Blackberry
Anytown Business Network (fictional)

Requires OS 6.0 or higher.
Devices supported:
Bold 9650, 9700, 9780, 9788, 9790, 9900, 9930, 9981
Curve 3G 9300, 9330, 9350, 9360, 9370, 9380
Pearl 3G 9100, 9105, 9670, 9800, 9810, 9850, 9860
---

Contact Us Today...