Call for Proposals - Submission System
Our Proposal Submission System is a powerful feature of our Membership Management System. If you are conducting a 'call for proposals' or 'call for presenters' in preparation for a conference or convention, this will allow your members/presenters to submit their proposals online. After which, you can organize committees to screen and rate the proposal to make a selection.
How it works
With the help of the diagram to the right, let's follow the progress of a proposal submission through it's 'life-cycle'.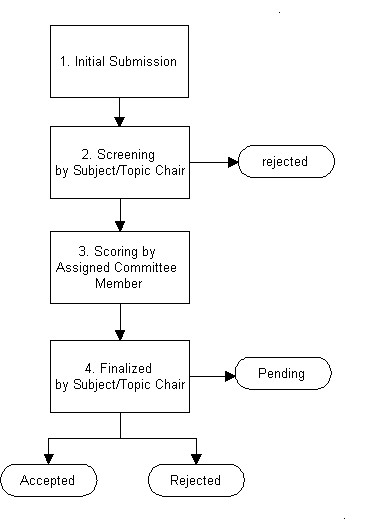 1. Initial Submission - It starts with the initial submission by a would-be presenter. The submitter goes to your organization's request-for-proposal menu page. The link to this page can be placed on your website or included in an email to your members. From this page they can select which call they are responding to (the system allows for multiple requests-for-proposals). The submitter then goes through a series of pages where they enter their contact information, co-presenters, select a topic/strand; select a type of proposal; then enter their title, abstract, and proposal text.
2. Strand/Topic Chair - After submission, an email notification is sent to the strand/topic chair (when a request-for-proposal is set-up, each topic/strand that is entered for the request has a strand/topic chair and up to 5 strand/topic committee members). At this time, it is up to the Strand/Topic chair to log-in to the members area and 'screen' the proposal. That is, to read it over breifly and decide whether to accept it, accept it with reservations, or to reject it outright. If accepted, the chair must assign it to a committee member or members for scoring.
3. Strand/Topic Committee Member(s) - After passing the screening process, notifications are sent to the committee members assigned to the proposal. The committee member must then log-in to the members area and 'score' the proposal. The committee members read through the proposal and assign scores based on criteria that are decided on when setting up the request-for-proposal. Once all assigned committee members have scored the proposal, an average score is assigned to the proposal, the scoring process is complete and the proposal goes on to the next step-
4. Administrator - After scoring is complete the assigned administrator receives a notification. The administrator can then 'finalize' or review the proposals that have been scored and accept, reject, or pend them as necessary. This is done untill all proposals have been submitted, screened, scored, and finalized.
This is also a cost-effective solution as well. The Membership Management System is priced in a tiered structure so organizations of all sizes can afford it!
NOTE: Your price tier will be determined by your organization's membership size OR by your typical event's attendance size, whichever is greater.

Contact Us Today...