Church Website Design
When it comes to websites, churches have specific needs. A church's website is an effective tool for communication within the congregation as well as gaining new members.
For churches, synagogues, mosques, and other faith-based organizations; Vieth Consulting can provide an effective, feature-rich website for a reasonable price.
An event calendar to keep everyone informed on what's going on, email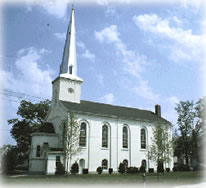 distribution lists to send broadcast emails, and an online member database to keep track of members are some of the features that your church website will contain.
Vieth Consulting is here to work with you to further whatever goals you may have for your website. Contact us today!
Online Tools
The Membership Management System is a set of online tools designed specifically for organizations. The MMS allows you to easily update your website as well as keep track of members and improve communication.
Personalized Service
We can offer a type of personalized service that is hard to come by. We will work with you through every step of the design process. For more information on website development options, click here...

Contact Us Today...

Available Features

Membership Management
Fundraising
Communication
Event Management
Website Content Management
Mobile Device Features
Privacy and Security
All member data stored in the Membership Management System is kept securely and password-protected, no information is shared or sold to 3rd parties. Your data is safely stored on a webserver in a state-of-the-art data center.
Sample Website-